Sports fixtures - Summer 2018
| | | |
| --- | --- | --- |
| Date | Event | Venue |
| 19/4/17 | Cross Country Relays – Y3-6 | Northcliffe Park |
| 9/5/17 | Kwik Cricket – Y4 | Saltaire CC or Bingley CC |
| 22/5/17 | Triathlon – Y5-6 | Bradford Grammar School |
| 23/5/17 | Kwik Cricket – Y6 | Saltaire CC or Bingley CC |
| 28/5/17 | Gifted & Talented Sports Camp | Tbc |
| 11/6/17 | Tennis – Y5 | Salts TC |
| 22/6/17 | Bradford Summer Games | Tbc |
| 5/7/17 | Rounders – Y6 | Eldwick Primary |
| 6/7/17 | Dance Competition | Beckfoot Heaton Primary |
| 12/7/16 | Rounders – Y6 | Eldwick Primary |
| 23/7/17 | Gifted & Talented Sports Camp | Tbc |
SPORTS LEADERS
The Year 6 Sports Leaders are doing a great job again. They give up their lunchtimes once a week to deliver excellent sporty sessions, jam-packed with fun, active games. The younger children, who received these sessions really enjoyed them. "They always make us happy and we get to play lots of fun, sporty games," said Kai Walker and Joseph Sharp of Year 2.
BOULDERING CHAMPIONS AGAIN!
Well done to our Bouldering Team, who skillfully tackled the climbing challenges to win the 2018 Depot Schools Cup for the second year in succession!
A special mention goes out to Evie Goodbold, who came second in the KS2 Girls Individual competition and to Finley Wilkinson, who won the KS2 Boys Individual competition.
- click on the link to read the report: https://www.theclimbingdepot.co.uk/
Tag Rugby @ Beckfoot
On 19th March, we had a great time playing Tag Rugby. I am sure that all those parents, who stood shivering on the touchline, will agree that the the team played with a fantastic spirit and their performances improved throughout.
LOGAN WALKER SELECTED TO RUN FOR WEST YORKSHIRE!
A HUGE congratulations to Logan Walker, who came 6th in the West Yorkshire Cross Country Finals and has therefore been selected to represent West Yorkshire in a race on 24th March. This is a Cottingley first! Good luck Logan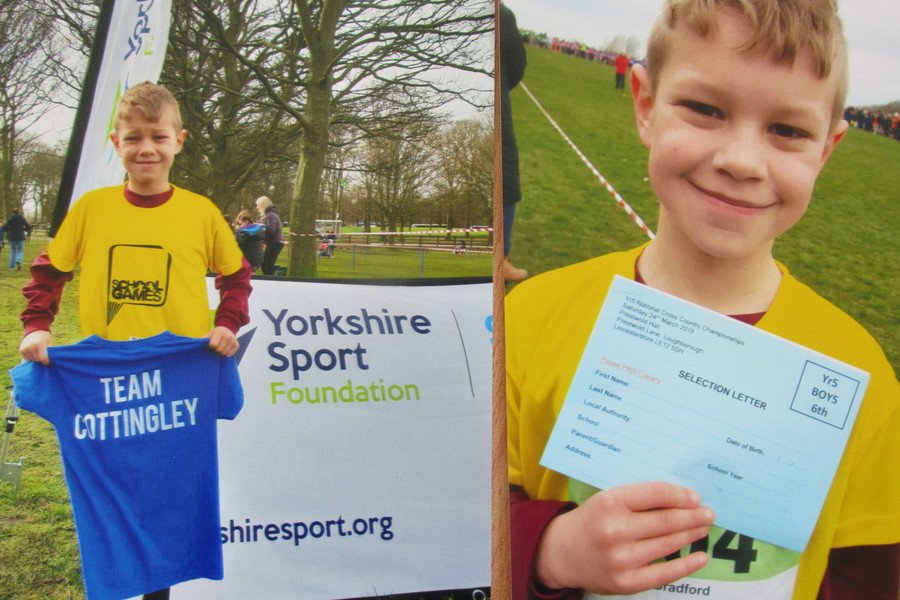 SPONSORED FUN RUN!
The Daily Mile track is now up and running and this could not have happened without the funds raised from the Sponsored Fun Run. Thank you so much for your support. Here are some photos of that day - what a lot of fun we had!
COTTINGLEY HAVE CAUGHT THE DANCE BUG!
7th July, 2017 - After 2 exciting weeks of inter-school 'dance-offs', a group of children were voted by Cottingley Village Primary School to demonstrate their skills at Beckfoot Heaton Dance Competition. All of the children had a great time and danced their socks off! Thank you to Beckfoot Heaton, who hosted the tournament brilliantly.
LET'S FIND THE NEXT ANDY MURRAY!
6th July, 2017 - Heaton Tennis Club came to Cottingley. Carrie spotted some real talent and has invited all of our budding tennis players in Year 2 and Year 3 to a free coaching session at her club!
TRIATHLON - THE EVENT OF THE YEAR!
22nd May, 2017 - TRIATHLON at Bradford Grammar School. Year 5 and 6 children had a brilliant time swimming, cycling and running.
TEAM COTTINGLEY WIN AGAIN!
4th May, 2017 - Congratulations to our Year 3/4 Boys Cross Country Team, who won the Cross Country Relay event. Well done George Trevethick, Logan Walker and Harrison Sumner. You did the school proud!
They were ably supported by our B-team (Alex Caldwell, Joshua Thorlby, James Uttley and Finnley Wilkinson). COLLABORATION and PERSEVERANCE are clearly a strength at our school.
18th March, 2017 - Bingley School's Swimming Gala
Well done to the swimming team who made it through to the finals of the Bingley School's Swimming Gala, which was held at Shipley Pool in March.
School is very grateful to The Nuffield Health Centre who allowed the swimming team to use their pool facilities for training before the event.
CROSS COUNTRY CLUB every Tuesday: Let's get fit for the upcoming Cross Country Races!
Click on the link below to see the latest cross country competition results at Bradford Grammar (9/3/17) and Northcliffe (30/3/17).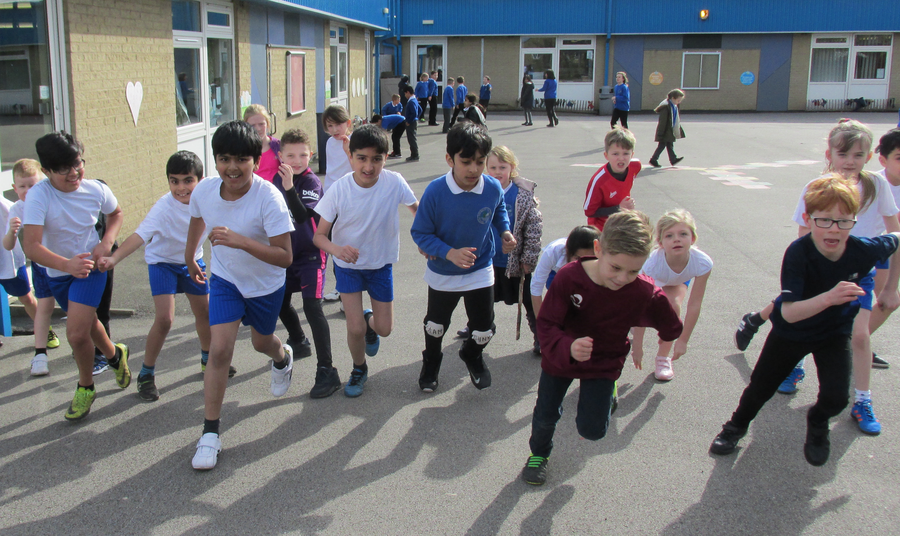 Well done to Logan Walker, who came 16th in the West Yorkshire Cross Country Championship.
Logan's tips for cross country success: train hard, pace yourself and then speed up towards the end.
What a star!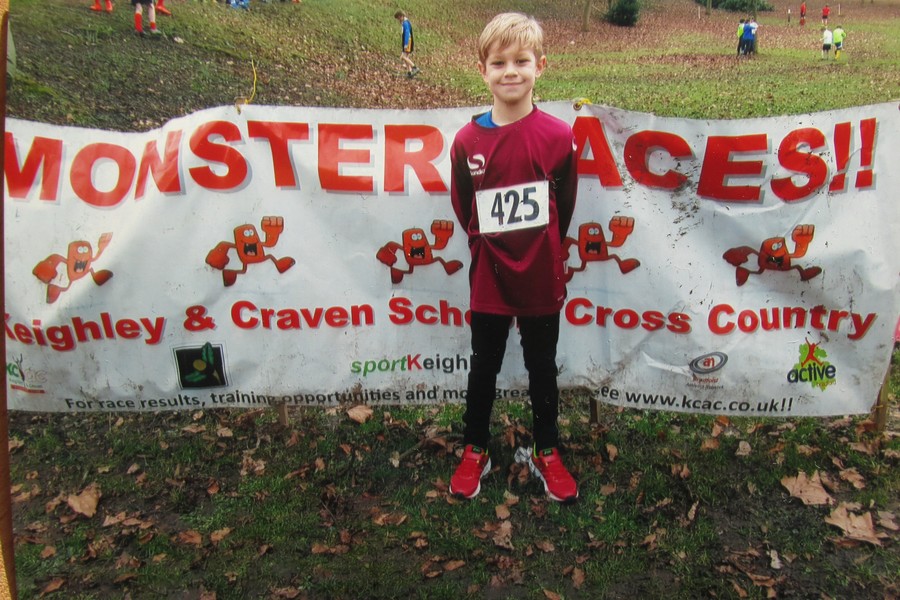 Sports Leaders give up one lunchtime a week to organise games and activities for younger children in the playground.
This is what children said about our sports leaders:
Hamza Sarajudeen (Year 2) - "I like the Sports Leaders because they make sure that everything is OK for us. I like the music with the sport!"
Sulaiman Khan (Year 4) - "You get to do things that you don't normally do - I was goalie when I don't normally get that chance".
6th October - The Sponsored Fun
Raising money to add sporty playground markings to our playground!
The Playground Markings are down and they look BRILLIANT!
Thank you to everyone (including the PTA), who helped to raise the funds to make this happen. The children are already using them and enjoying them.
Come and see our regularly updated Sports Notice Board in the hall! It includes results, upcoming events, writing commentaries and lots of sporty pictures.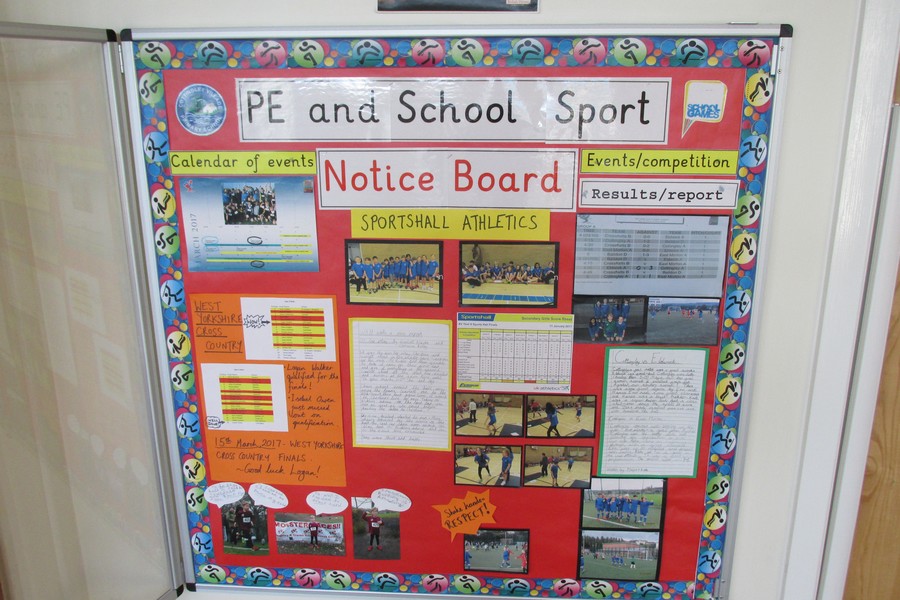 11th January, 16th January - Sportshall Athletics
Well done to all who participated.
A special well done to Ruby Denman and Emma Mayne, who won TWO races and Ayshah Arfan, who won the chest push!
16th January - read this exciting race commentary, written by Scarlett Blacka and Christina Kelley, who participated in the Sportshall Athletics.
20th October - Cross Country
Good luck to Scarlett Bedford, Isobel Owen and Logan Walker, who have made it through to the WEST YORKSHIRE QUALIFIERS!